If you're considering a career as a commercial truck driver, then you may have questions about the process of becoming one, including what's required of you to get your commercial driver's license (CDL). The Federal Motor Carrier Safety Administration (FMCSA) has several long-standing requirements to consider, such as medical fitness for duty, as well as new regulations that were just introduced in 2022. Here's an in-depth look at what you'll need to succeed in your new career, from rules and regulations to industry acronyms and more.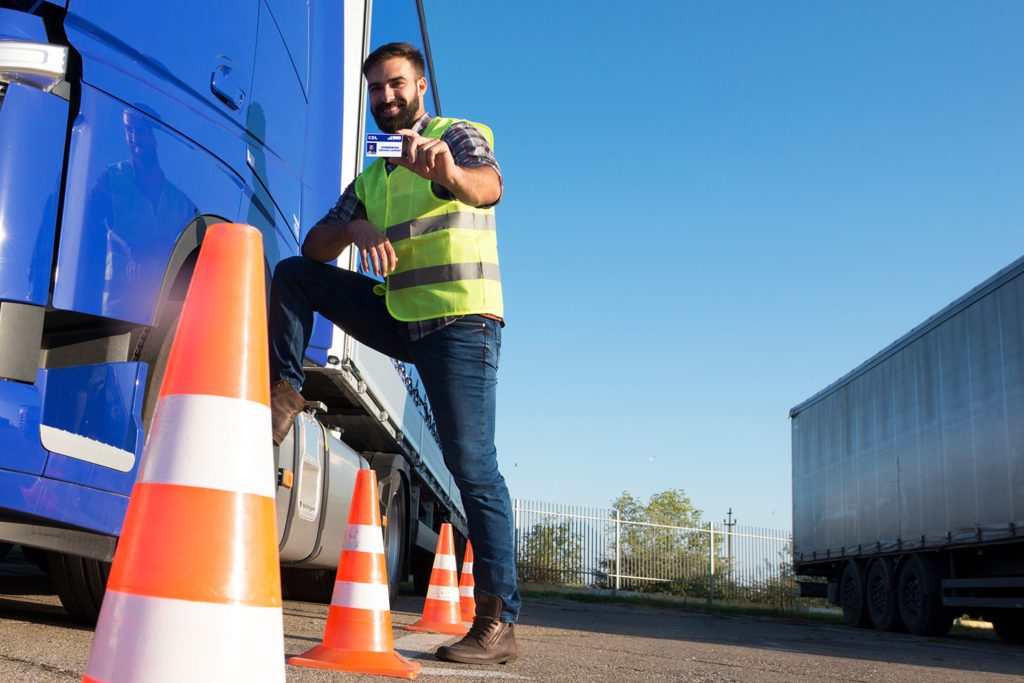 Updated ELDT Regulations
The first thing to note is that as of February 7, 2022, the FMCSA released updated regulations that mandate formal entry-level driver training (ELDT) for all new CDL applicants. FMCSA's goal is to keep every driver safe on the roadways, and one way to further this mission is by setting an overarching standard for the training that new commercial truck drivers must receive. This new rule requires that all new drivers complete both a theory course and behind-the-wheel training before taking their final skills test to earn their CDL.
Who do the new regulations apply to?
ELDT requirements apply to those who are obtaining a Class A CDL, Class B CDL or a special endorsement for the first time, as well as those who are upgrading an existing Class B CDL to a Class A CDL. These new regulations are not retroactive, meaning that individuals who received a CDL or endorsement before February 7, 2022 will not need to complete additional training to maintain their credentials. There are also some exceptions to the rule. Check out a complete breakdown of these regulations and who they apply to. Still have questions? Take a look at this helpful Q&A guide.
Where can I find a theory course that will satisfy new ELDT requirements?
To help aspiring truck drivers find approved training programs, the FMCSA has established the Training Provider Registry (TPR), a comprehensive list of both online and in-person schools and companies that offer ELDT. For the theory component, you will need to register, attend and pass a course offered by a provider in the registry. Whether you'd prefer to receive traditional in-class instruction or complete an online course like ReadyDriver is up to you – there are many programs to pick from so you can choose what is right for you and your lifestyle. Theory courses often vary in price, time commitment and teaching styles, so be sure to do your research before enrolling. If you have signed on as a new hire with a trucking company and they are partially or fully compensating you for your training, they may dictate which provider you can use.
What happens after I complete the required theory course?
Once your theory course is completed, you'll need to take your commercial learner's permit (CLP) test at the state department of motor vehicles/office of motor vehicles (DMV/OMV). This exam will test your knowledge of key information about operating a Class A commercial vehicle, including control systems, safety protocol and more.
After passing the test and obtaining your CLP, you are cleared to begin the behind-the-wheel portion of your training, meaning you'll finally start practicing road skills with a big rig and learn how the vehicle operates in practice. CDL skills training must be completed in person and some states even require that new drivers spend a certain number of hours practicing with a vehicle prior to applying for their license. You can use the TPR to search for providers near you.
Before you are allowed to operate commercial motor vehicles, most driving schools will make sure you can pass a pre-employment drug screen. As a truck driver, you will be required to obtain and maintain a valid Medical Examiner's Certificate.
After completing your training and getting ample practice behind the wheel (at least 14 days after getting your CLP), you can check to make sure your training records have been submitted to the training provider. Now you are ready to take your official skills test. The test will include sections on pre-trip inspections, basic controls and various scenarios you might encounter on the road. The test will also be where you will verify that you have officially completed all required entry-level driver training. States generally maintain a running list of approved CDL testers, so check out your state's DMV/OMV to find a testing location that's convenient for you.
Once you've passed your skills test, all that's left to do is some paperwork to officially apply for your CDL. You'll need to bring your personal identification documentation (social security card, birth certificate, etc.), as well as proof that you have successfully passed your skills test with an approved examiner. You will declare to your State Driver Licensing Agency (SDLA) that you only operate commercially in a process called self-certification. Learn more about specific state procedures here.
Quick Reference: CDL Industry Acronyms
We know there have been several acronyms used throughout this blog, so we wanted to provide you with a quick-reference guide of the most important terms you need to be familiar with:
ELDT (Entry-Level Driver Training) - Training required of those who are obtaining a Class A CDL, Class B CDL or a special endorsement for the first time, as well as those who are upgrading an existing Class B CDL to a Class A CDL. Consists of both driving theory and behind-the-wheel training.
TPR (Training Provider Registry) - The official directory of approved theory and behind-the-wheel CDL training providers.
FMCSA (Federal Motor Carrier Safety Administration) - The U.S. Department of Transportation's agency that regulates the trucking industry.
CLP (Commercial Learner's Permit) - Allows learners to operate a Class A vehicle as part of their behind-the-wheel skills training; obtained following the successful completion of a state-sanctioned knowledge test.
CDL (Commercial Driver's License) - Required to operate large, heavy or hazardous materials in a commercial motor vehicle; obtained following the successful completion of all ELDT (both theory and skills training components), a state-sanctioned CLP knowledge test, and a final road test.
DMV/OMV (Department of Motor Vehicles/Office of Motor Vehicles) - A government agency that administers motor vehicle registration and driver licensing.
Interested in becoming a commercial truck driver?
If you're looking for an in-demand career that has excellent earning potential, benefits and a great deal of freedom, truck driving is the career for you – and ReadyDriver is the best way to get started. Learn more about how ReadyDriver's online theory course prepares you for the road ahead.