As a CDL driver, if you obtain a hazardous materials (HAZMAT) endorsement, you can earn more money for the additional risk involved in transporting hazardous materials.
But don't get turned away because you didn't know how to meet the changes in federal regulations requiring you to complete HAZMAT theory training with an approved training provider.
ReadyDriver's CDL HAZMAT Endorsement theory course allows you to save your gas and skip the classroom while meeting the curriculum requirements of the Federal Motor Carrier Safety Administration (FMCSA). Your completion will be automatically reported to the Training Provider Registry (TPR).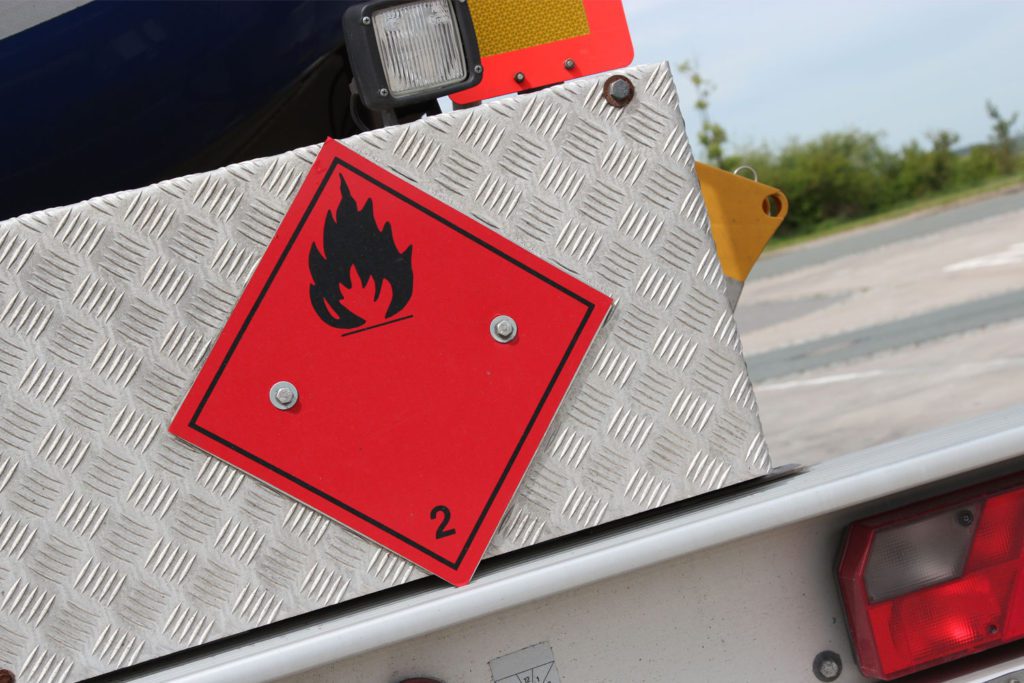 The Code of Federal Regulations provides the guidance below for the HAZMAT endorsement:
Applicants must complete the hazardous materials curriculum, which applies to driver-trainees who intend to operate CMVs used in the transportation of hazardous materials as defined in § 383.5. Driver-trainees seeking a HAZMAT endorsement, as defined in § 383.93(c)(4), must complete this curriculum in order to take the state-administered knowledge test for the HAZMAT endorsement. There is no required minimum number of instruction hours for theory training, but the training provider must cover all the topics in the curriculum. The HAZMAT curriculum must, at a minimum, include the components outlined here.
Steps to Obtain a HAZMAT Endorsement
Pass a certified HAZMAT Theory course.
Pass the written HAZMAT knowledge exam at your state licensing agency.
Complete the Hazardous Materials Endorsement application through the DMV or TSA, depending on which is required in your state. Be sure your medical screening is up to date with your state.
Undergo a required Federal Security Threat Assessment (well-known as TSA fingerprint/background check).
Wait for TSA to send an official notice of completion. Once the state receives a copy, you will have your HAZMAT endorsement.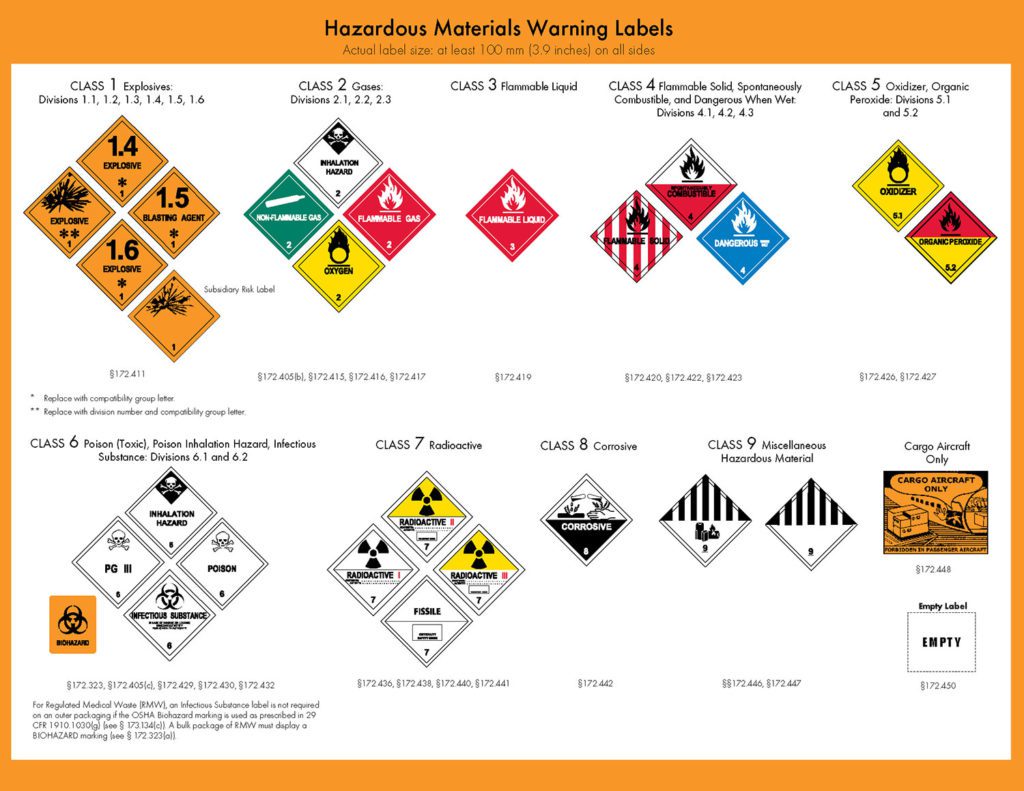 Are you unsure about the stability of your chosen career path? Unhappy in your current role? Do you find yourself searching for a profession you can take pride in? Do you continuously browse job boards but lack the experience to meet entry-level qualifications? If you answered "yes" to any of these questions, then commercial truck driving could be a great fit for you. There is a community waiting for you — not to mention the phenomenal perks in commercial trucking. Take a look at the top five below.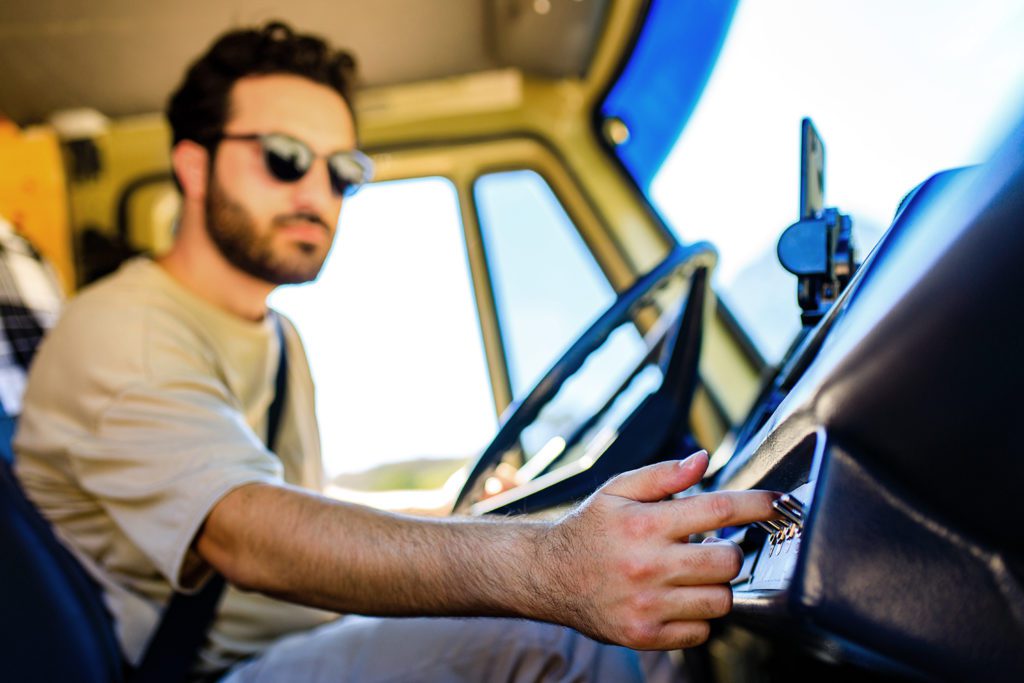 Excellent Earning Potential
To answer your first question: "How much money can I actually make driving a big rig?" As an entry-level truck driver, you can expect to make a base salary of around $45,000 per year, with earning potential reaching upwards of $90,000 (depending on your terminal's location and type of driving job). During this first year, you will continue training and should consider finding a mentor. Keep in mind that this estimated wage doesn't include bonuses that are often awarded as you maintain a safe driving record, take on more responsibility, and gain additional endorsements on your CDL license such as HAZMAT, tanker, and double or triple trailer.
A World of Opportunities
Many careers have strict limitations on employment eligibility or a long list of required qualifications before employers will even offer an interview. Commercial truck driving provides a career for professionals 21 and over, regardless of previous work history or education. You could complete your initial training and be thriving behind the wheel in just a few weeks.
Choose from multiple types of routes and driving durations to best fit your lifestyle. Over-the-road or long-haul truckers are often driving for 6-7 days straight and travel the farthest from home. These drivers earn a higher rate per mile for this sacrifice and take extended time off in between hauls. Regional truckers cover a few states and can even choose a dedicated route position, allowing them time to return home daily or at the end of each week.
Newfound Freedoms
Do you love being behind the wheel? As a commercial truck driver, the road is your office. You have the opportunity to travel the entire country… while getting paid! Not only can you share that office with a companion or pet, but you will also find yourself part of a tight-knit community looking out for one another.
Do you dream of owning your own business? In commercial trucking, you can. Many grants, small business loans and financing options are available to help you get started as an owner/operator.
Comprehensive Benefit Packages
As a commercial truck driver, you'll be able to take advantage of medical, dental, vision, life insurance, retirement plans, paid time off and more, depending on the company you sign with. Many organizations will offer new drivers partial or full reimbursement of costs for the entry-level driver training courses required to get a CDL and start a career. These benefits allow you to provide both financial stability and a healthy lifestyle for yourself and your family.
High Demand
If any of the reasons above interest you, then now is the time to choose a career in trucking! Demand for heavy and tractor-trailer truck drivers is projected to grow 6% from 2020 to 2030, which equates to about 231,100 open jobs each year. Because of the pandemic, which has caused both a surge of goods being shipped and an influx of early retirees, there is a national shortage of truck drivers. According to the American Trucking Association's driver shortage report, by 2030, the U.S. is expecting to be 160,000 truck drivers short of what is needed to keep the economy afloat. This could be good news for you — many freight companies are offering sign-on bonuses, higher wages and more robust benefits to fill positions during national shortages. You can be part of the solution by starting a career in trucking today.
Interested in becoming a commercial truck driver?
If you're looking for an in-demand career that has excellent earning potential, benefits and a great deal of freedom, truck driving is the career for you — and ReadyDriver is the best way to get started! Learn how to handle cargo, maintain and inspect a vehicle, and other key safety information, allowing you to get behind the wheel faster. ReadyDriver is built to be flexible and fit within your schedule, meaning you can complete training at your pace, at any time, from any device. Learn more now about how ReadyDriver prepares you for the road ahead.
Source:
https://www.bls.gov/ooh/transportation-and-material-moving/heavy-and-tractor-trailer-truck-drivers.htm
If you're considering a career as a commercial truck driver, then you may have questions about the process of becoming one, including what's required of you to get your commercial driver's license (CDL). The Federal Motor Carrier Safety Administration (FMCSA) has several long-standing requirements to consider, such as medical fitness for duty, as well as new regulations that were just introduced in 2022. Here's an in-depth look at what you'll need to succeed in your new career, from rules and regulations to industry acronyms and more.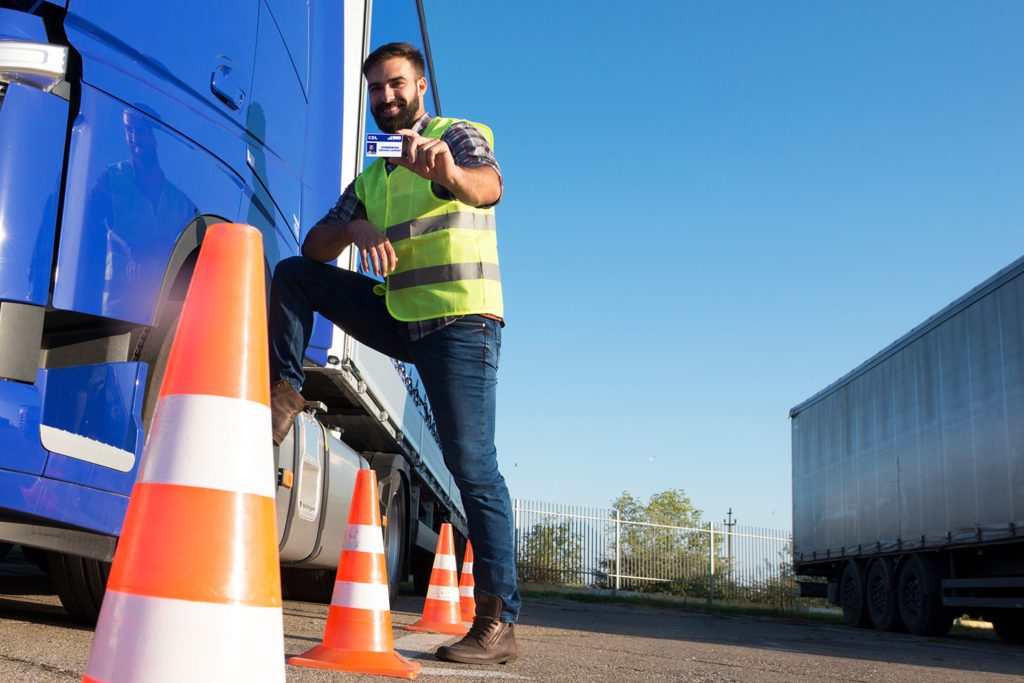 Updated ELDT Regulations
The first thing to note is that as of February 7, 2022, the FMCSA released updated regulations that mandate formal entry-level driver training (ELDT) for all new CDL applicants. FMCSA's goal is to keep every driver safe on the roadways, and one way to further this mission is by setting an overarching standard for the training that new commercial truck drivers must receive. This new rule requires that all new drivers complete both a theory course and behind-the-wheel training before taking their final skills test to earn their CDL.
Who do the new regulations apply to?
ELDT requirements apply to those who are obtaining a Class A CDL, Class B CDL or a special endorsement for the first time, as well as those who are upgrading an existing Class B CDL to a Class A CDL. These new regulations are not retroactive, meaning that individuals who received a CDL or endorsement before February 7, 2022 will not need to complete additional training to maintain their credentials. There are also some exceptions to the rule. Check out a complete breakdown of these regulations and who they apply to. Still have questions? Take a look at this helpful Q&A guide.
Where can I find a theory course that will satisfy new ELDT requirements?
To help aspiring truck drivers find approved training programs, the FMCSA has established the Training Provider Registry (TPR), a comprehensive list of both online and in-person schools and companies that offer ELDT. For the theory component, you will need to register, attend and pass a course offered by a provider in the registry. Whether you'd prefer to receive traditional in-class instruction or complete an online course like ReadyDriver is up to you – there are many programs to pick from so you can choose what is right for you and your lifestyle. Theory courses often vary in price, time commitment and teaching styles, so be sure to do your research before enrolling. If you have signed on as a new hire with a trucking company and they are partially or fully compensating you for your training, they may dictate which provider you can use.
What happens after I complete the required theory course?
Once your theory course is completed, you'll need to take your commercial learner's permit (CLP) test at the state department of motor vehicles/office of motor vehicles (DMV/OMV). This exam will test your knowledge of key information about operating a Class A commercial vehicle, including control systems, safety protocol and more.
After passing the test and obtaining your CLP, you are cleared to begin the behind-the-wheel portion of your training, meaning you'll finally start practicing road skills with a big rig and learn how the vehicle operates in practice. CDL skills training must be completed in person and some states even require that new drivers spend a certain number of hours practicing with a vehicle prior to applying for their license. You can use the TPR to search for providers near you.
Before you are allowed to operate commercial motor vehicles, most driving schools will make sure you can pass a pre-employment drug screen. As a truck driver, you will be required to obtain and maintain a valid Medical Examiner's Certificate.
After completing your training and getting ample practice behind the wheel (at least 14 days after getting your CLP), you can check to make sure your training records have been submitted to the training provider. Now you are ready to take your official skills test. The test will include sections on pre-trip inspections, basic controls and various scenarios you might encounter on the road. The test will also be where you will verify that you have officially completed all required entry-level driver training. States generally maintain a running list of approved CDL testers, so check out your state's DMV/OMV to find a testing location that's convenient for you.
Once you've passed your skills test, all that's left to do is some paperwork to officially apply for your CDL. You'll need to bring your personal identification documentation (social security card, birth certificate, etc.), as well as proof that you have successfully passed your skills test with an approved examiner. You will declare to your State Driver Licensing Agency (SDLA) that you only operate commercially in a process called self-certification. Learn more about specific state procedures here.
Quick Reference: CDL Industry Acronyms
We know there have been several acronyms used throughout this blog, so we wanted to provide you with a quick-reference guide of the most important terms you need to be familiar with:
ELDT (Entry-Level Driver Training) - Training required of those who are obtaining a Class A CDL, Class B CDL or a special endorsement for the first time, as well as those who are upgrading an existing Class B CDL to a Class A CDL. Consists of both driving theory and behind-the-wheel training.
TPR (Training Provider Registry) - The official directory of approved theory and behind-the-wheel CDL training providers.
FMCSA (Federal Motor Carrier Safety Administration) - The U.S. Department of Transportation's agency that regulates the trucking industry.
CLP (Commercial Learner's Permit) - Allows learners to operate a Class A vehicle as part of their behind-the-wheel skills training; obtained following the successful completion of a state-sanctioned knowledge test.
CDL (Commercial Driver's License) - Required to operate large, heavy or hazardous materials in a commercial motor vehicle; obtained following the successful completion of all ELDT (both theory and skills training components), a state-sanctioned CLP knowledge test, and a final road test.
DMV/OMV (Department of Motor Vehicles/Office of Motor Vehicles) - A government agency that administers motor vehicle registration and driver licensing.
Interested in becoming a commercial truck driver?
If you're looking for an in-demand career that has excellent earning potential, benefits and a great deal of freedom, truck driving is the career for you – and ReadyDriver is the best way to get started. Learn more about how ReadyDriver's online theory course prepares you for the road ahead.
Considering a career in commercial truck driving? There are many ways to enter this rewarding profession but it always starts with getting your commercial driver's license (CDL). As of February 7, 2022, this process now requires entry-level drivers to complete both theory and behind-the-wheel skills training with federally recognized training providers. Drivers must complete all mandated training prior to taking their final CDL road tests.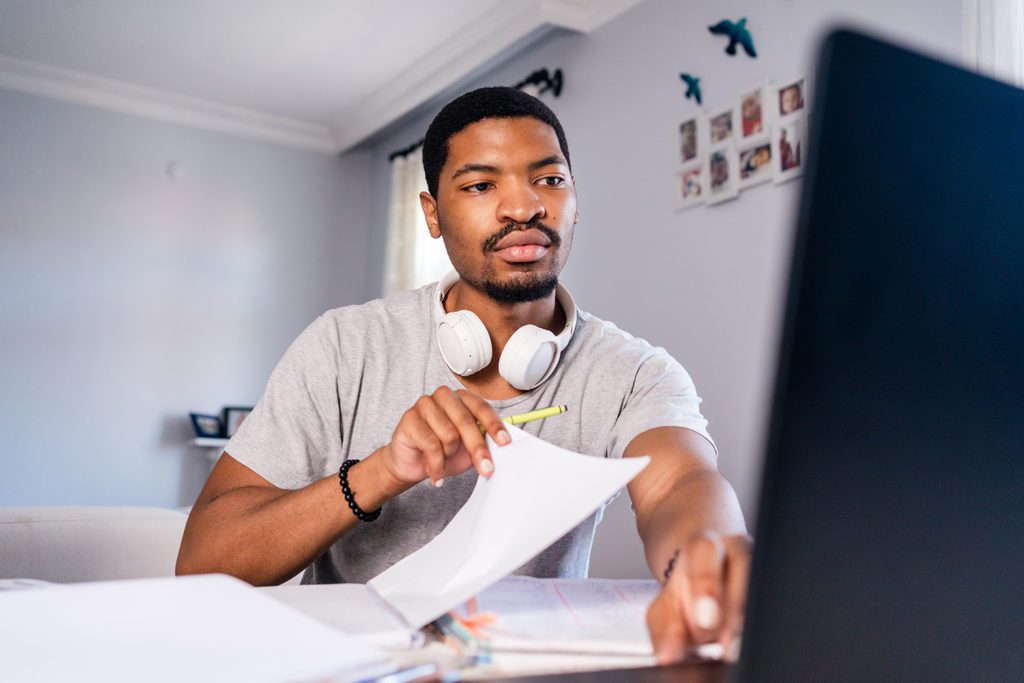 There are a few boxes to make sure you can check off prior to starting on this career path:
Are you at least 18 years old? You must be 21 to drive across state lines.
Make sure you don't have any convictions that may disqualify you (see Federal Regulation § 383.51), or any license disqualification under State law, AND that you do not have a driver's license from more than one state.
Make sure you are able to pass a drug screen and are medically fit to drive a big rig, per FMCSA guidelines.
Make sure you have proof of citizenship or lawful permanent residency, or obtain a non-domiciled commercial learner's permit (CLP) as specified in Federal Regulation § 383.71 paragraph (f).
Make sure you can provide proof of residence in the state you apply for your CDL. Acceptable proof of domicile is a document with your name and residential address within the state, such as a government-issued tax form.
If you can satisfy the criteria above, you won't have any major regulatory roadblocks to worry about on your way to your CDL. With this in mind, let's talk about what ReadyDriver is and how you can start your journey to a fulfilling career as a trucker.
ReadyDriver is a self-paced online course that fulfills the theory requirement, helping you establish a solid foundation to build your career on. ReadyDriver's goal is to prepare you to take on your new career with confidence through interactive training modules.
Flexible Course Options
With ReadyDriver, you have the freedom to define your pace and place. Our entire course is 100% self-paced and mobile-friendly, which means you can complete the course anywhere and on any device that has access to the internet. You can even complete the course while still working at another job (or two) or attending to your family.
Comprehensive Curriculum
Created by Alliance Safety Council, one of the nation's largest occupational safety and workforce development training providers, and Diesel Driving Academy, a highly-reputable driving school based in Louisiana and Arkansas, ReadyDriver's first priority is to provide entry-level truck drivers with a complete program that is compliant with the new CDL federal regulations set forth by the Federal Motor Carrier Safety Administration (FMCSA). With our program, you can rest assured that you'll be fully prepared to excel as a commercial truck driver.
Engaging Learning Format
We understand that taking an online course can feel draining over time, both emotionally and physically. Unlike other e-learning options, we've incorporated multiple voices, interactive modules, flip-card learning tools, study aids and practice tests throughout to ensure you're not only learning but enjoying the process. We believe that when you're fully engaged in the learning, you'll retain the information better and feel more at ease behind the wheel.
Integrated Process
Completing ReadyDriver is only the first step for you to receive your CDL. That's why we've made it extremely easy for you to move along to the next steps. After you complete our course and pass our end-of-course exam, we'll automatically send your results to the Training Provider Registry (TPR). The TPR tracks compliance with the FMCSA requirements. From there, you can begin your behind-the-wheel training with a licensed provider.
Interested in becoming a commercial truck driver?
If you're looking for an in-demand career that has excellent earning potential, benefits and a great deal of freedom, truck driving is the career for you, and ReadyDriver is the best way to get started. Learn more about how ReadyDriver prepares you for the road ahead.